Attendance Information

Attendance at the Systems Symposium and its short courses is restricted to U.S. citizens who are employees of the U.S. Government or its contractors, and who possess a minimum of a Secret personnel clearance.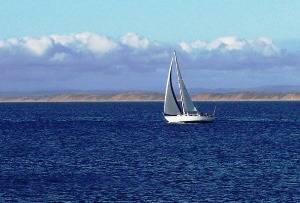 Monterey Bay Sailboat
Technical sessions of the Directed Energy Systems Symposium will be held at the Hyatt Regency Monterey Hotel, 1 Old Golf Course Road, Monterey, California, and at the Naval Postgraduate School which are within close walking distance. Although a shuttle bus will be available, most Symposium attendees choose to walk between venues.
Directions to these sites are available through their web pages. Private auto access to NPS is greatly restricted, and parking is extremely limited.
Accommodations
DEPS negotiated a block of rooms at government rates for Symposium attendees at the Hyatt Regency Hotel. This room block is sold out. There are other hotels nearby, and we suggest you contact them for accommodations during the Symposium.
The Hyatt Regency Monterey Hotel reserves the right to enforce its policies, procedures, and cancellation fees. DEPS is not responsible for any hotel cancellation charges, penalties, or billing discrepancies.
Companions
Companions are always a welcome addition to any DEPS meeting. To encourage them, we offer companion meal options at an additional cost. Our full meal option includes all meals that are provided for regular attendees including any evening and specialty functions that may be planned. For those companions who do not want to be tied to scheduled meal functions, we also offer a reception only option which includes only the Tuesday evening reception.
Companion tickets can be purchased either with your symposium registration (below), or separately using this online companion registration form.
Upon arrival, those checking the "companion information needed" box on the registration will be provided a welcome packet with information on local points of interest. To assist companions in making plans for their stay, an onsite specialist will meet with interested parties on the first day of the meeting, providing access, individually or as a group, to local attractions and/or tours.
Registration
Note that attendance at the Systems Symposium is limited to U.S. citizens who possess a security clearance and who are employees of the U.S. Government or its contractors. Please be sure to have read the security information below.
Fees and Options
---Pre Registration---

------ Short Courses ------

Through 28 August
Through 22 September
On-site
1 Half-day
2 Half-day
DEPS member
$950
$1050
$1150
$250
$450
Non-member
$1100
$1200
$1300
$250
$450
Government Employee
$700
$700
$700
$250
$450
Esteemed Leader(1)
$300
$300
$300
$250
$450
Qualifying Student (2)
$300
$300
$300
$0
$0
Other Full Time Student
--Full price based on membership status (above)--
$0
$0
(1) Esteemed Leaders are retired DEPS members willing to volunteer for 2 half days of service. In exchange for their help in putting on a successful program we can offer a reduced rate for their attendance to the overall symposium. Please contact Cynnamon@deps.org for more information.
(2) Full time students will be admitted at reduced charge provided they either (1) agree to assist DEPS staff for two half-days of service, or (2) are presenting at the Symposium, and agree to assist DEPS for a single half-day day of service. If these conditions are not met, students will be required to pay the full registration fee. Note however that short courses are free for all full-time student registrants regardless of their volunteer/presenter status.
Registration fees include participation in all Symposium sessions for which the attendee qualifies; breakfast snacks* and coffee breaks Tuesday through Friday mornings, lunch Tuesday through Thursday, the evening reception on Tuesday, and a copy of the proceedings. *Note that Government Employee registration does not include breakfast. Breakfast can be purchased for $10/day with your registration.
Short course registrations include student materials, refreshments, and Continuing Education Unit (CEU) credits for successful students. Morning courses include breakfast snacks and a box lunch is provided to those attending afternoon courses. Two half-day courses can be selected for a reduced price. Short courses can be purchased separate from your Symposium registration by using this short course registration form.
Also note that companion meal tickets, allowing guests to enjoy the catered events, are available for an additional cost and can be purchased with your registration (below) or separately using this online companion registration form.
---
To register for the Systems Symposium, please select from one of the following options.
Complete this form to register on-line. Note that on-line registration does not require on-line payment.

Some organizations have installed web filters that may prevent on-line registration from inside their facilities. If this appears to be true for you, please try again off-site or use the registration option below.


Print this registration form (in PDF format) and follow the instructions provided.
Persons requesting cancellation through 28 August will receive a full refund. Cancellations after 28 August are subject to a $100 cancellation fee. No refunds will be given after 22 September.
Attendance at the Systems Symposium and its short courses is restricted to U.S. citizens who are employees of the U.S. Government or its contractors, and who possess a minimum of a Secret personnel clearance. Instructions for submitting classified visit requests are provided below.
Please note that some sessions at the Symposium are likely to be covered by Distribution Limitation D, which restricts participation in those sessions to employees of the U.S. Department of Defense or its contractors. If you do not meet this requirement, you will be unable to attend such sessions, even though you have a classified visit request on file.
Note: Registered companions and exhibit staff who do not attend program sessions do not have to meet these security requirements.
Submitting Visit Requests

DoD Government/Contractor Visit Instructions

Eligibility and access for all DoD government and contractor attendees will be verified using JPAS. Please send a visit notification to JPAS SMO 1LNJ44 with the following information:

Purpose of Visit: DEPS Symposium
Point of contact: Tiffany Bjelke
POC Phone: (505) 998-4910
Dates of visit: 25-29 September 2017

NOTE TO FSOs: Please do not modify existing visit notifications in JPAS; when adding new attendees, please create a new visit notification.


Non-DoD Government/Contractor Visit Instructions

Please fax a visit authorization letter to:

Tiffany Bjelke
DEPS Conference Security Manager
Phone: (505) 998-4910
Fax: (505) 998-4917


Note that all visit requests must be received by 1200 noon (Mountain Time) on 6 September 2017.
---
Last updated: 13 September 2017