A Joint DEPS - ITEA Event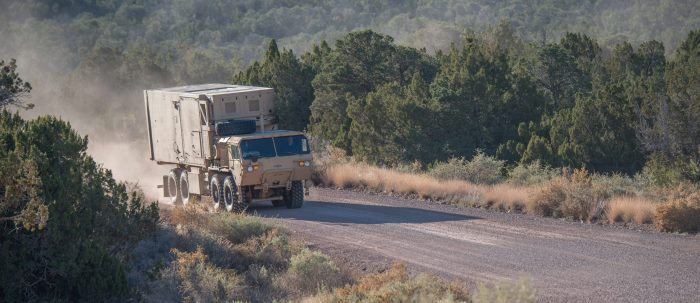 High Energy Laser Mobile Test Truck
Conference Highlights
Partial list of invited speakers

Senator Martin Heinrich (D-N.M.)
Major General Matthew Molloy, Commander, Air Force Operational Test and Evaluation Center
Dr. Kelly Hammett, Director, Air Force Research Laboratory Directed Energy
Mr. Steve Squires, Director, High Energy Laser Systems Test Facility
Mr. Derrick Hinton, Acting Director, Test Resource Management Center
Mr. Steve Traver, New Mexico Legislative Fellow
Dr. Shawn Jordan, Professor at Arizona State University Fulton Schools of Engineering

Breakout technical sessions
Public and restricted sessions
Exhibits
Short Courses

Introduction to DE T&E Process
T&E of High Energy Laser Systems
T&E of High Power Microwave Systems

Co-located with ITEA Engineering Workshop
The 2018 Directed Energy Test & Evaluation Conference will be held on 16-18 January 2018 in Albuquerque, New Mexico, at the Sheraton Uptown Albuquerque Hotel. It is jointly sponsored by the Directed Energy Professional Society and the International Test & Evaluation Association, and is co-located with the ITEA Engineering Workshop.
Registrants for either conference may attend sessions of the other. However, while some portions of the DE T&E Conference will be available to any registrant, other sessions will be limited in participation. See the Security Section.
Proceedings of the Conference will be published. See our Online Store for proceedings of some previous DE T&E Conferences.
Program and Agenda

Preliminary Agenda Overview

Tuesday,16 January

0800 - Short courses

1300 - Short courses



Wednesday, 17 January

0800 - Keynote and plenary speakers

1300 - Technical track sessions

1730 - Reception with exhibitors



Thursday, 18 January

0800 - Keynote and plenary speaker

1030 - Panel: Prototyping to Develop Range Test Capabilities

1300 - Technical track sessions

1700 - Conference adjourns


An overview of the preliminary agenda is provided here.
One focus of the 2018 DE T&E Conference is to leverage the model of the DEPS DE Systems Symposium (Monterey, California, 25-29 September 2017) and feature topics related to the T&E of the Symposiumís DoD systems of interest:
GBAD- Marine Corps Ground Based Air Defense
HADES - Air Force High-power Adaptive Directed Energy Weapon
HELMTT- Army High Energy Laser Mobile Test Truck
HIJENKS - Joint Navy-Air Force High Power Electromagnetic Non-Kinetic Strike
LWSD - Navy Laser Weapon System Demonstrator
SHiELD - Air Force Self-Protect High Energy Laser Demonstrator
In addition, focus areas for technical breakout sessions will include these topics:
DE T&E instrumentation and facilities
DE T&E planning and execution challenges
DE T&E results
DE S&T efforts in support of planned T&E efforts
A general idea of the technical content of the Conference is available from this online listing of submitted abstracts.
---
---
Last updated: 6 December 2017