Attendance Information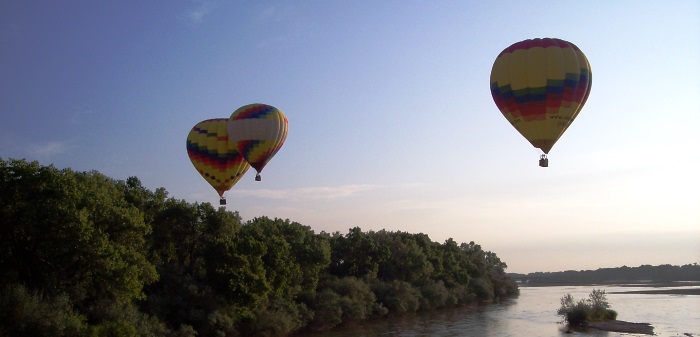 Early Morning Balloons over Rio Grande in Albuquerque
Registration for the Directed Energy Test & Evaluation Conference is open to anyone with an interest in the subject matter of the Conference. However, some conference sessions and short courses may be limited to registrants who are employees of the U.S. Government or its contractors. The conference will be held at the Sheraton Albuquerque Uptown Hotel 2600 Louisiana Blvd.NE, Albuquerque, NM 87110.
Accommodations
DEPS has negotiated a block of rooms at government rates for Conference attendees at the Sheraton Hotel. To make a reservation at these reduced rates, click here and use the hotel's online reservation system, or call the hotel reservation line at (800) 325-3535 and mention that you are attending this DEPS meeting. Make your reservation early; the room block will expire on 22 December 2017.
The Hotel reserves the right to enforce its policies, procedures, and cancellation fees. DEPS is not responsible for any hotel cancellation charges, penalties, or billing discrepancies.
Registration
Registration for the DE T&E Conference is available here.
Registrants for either meeting may attend sessions of both the DE T&E Conference and the ITEA Engineering Workshop. Participation in some DE T&E Conference technical sessions will have limited participation. See Security section below.
Attendance Requirements for Limited Sessions

The 2018 DEPS DE T&E conference will be composed of open, public sessions and limited participation sessions. It will include two levels of limited participation sessions: those with Limited Distribution C and those having Limited Distribution D. Both levels restrict participation to U.S. citizens. Distribution C sessions are further limited to employees of the U.S. Federal Government or its contractors, and Distribution D is limited to employees of the U.S. Department of Defense or its contractors. If you do not meet these requirements, you will be unable to attend the limited participation sessions, although you will be able to participate in the open, public (Limited Distribution A) sessions.
Submitting Visit Requests to Attend Limited Sessions

Via JPAS
Persons having access to the Joint Personnel Adjudication System (JPAS) who wish to participate in limited participation sessions should send visit notification via JPAS according to AFI 31-101 and the NISPOM with the following information:
Purpose of Visit: 2018 DEPS DE T&E Conference
Point of contact: Tiffany Bjelke
POC Phone: (505) 217-2062
Visited SMO: 1LNJ46
First day of visit: 16 January 2018
Last day of visit: 18 January 2018
Via Visit Request Letter
Those persons not having access to JPAS and wishing to attend limited participation sessions must submit a Visit Request Letter. The request must (1) be on company letterhead, (2) be signed by your company FSO or your immediate supervisor , (3) identify you by name as a company employee, (4) state your citizenship, (5) include the last four of your social security number, and (6) state that you work on either government contracts or DOD government contracts that give you have a valid need to know to be participate in limited C, or Limited C and D sessions at the DET&E Conference. Fax the letter to 505-998-4917, email it to Tiffany@deps.org, or mail it to:
Directed Energy Professional Society
Attn: 2018 DEPS DE T&E Conference
7770 Jefferson Street NE, Suite 440
Albuquerque, New Mexico 87109

If you are unable to submit a visit request in either of the manners above, and you have a US Government-issued CAC, please contact Tiffany Bjelke by phone at 505-217-2062 or by email at Tiffany@deps.org to discuss the specifics and determine access.
Visit Request Deadline
All visit requests, via JPAS or Visit Request Letter, must be received by DEPS on or before 4 January 2018. For questions regarding visit requests or verification of receipt please contact Tiffany Bjelke at (505) 217-2062 or tiffany@deps.org.
Exhibits and Conference Sponsorships
Exhibits and conference sponsorships are being managed through ITEA. These links take you to the pertinent information on the ITEA Engineering Workshop Web page, including an exhibitors timeline:
For answers to questions about exhibits or conference sponsorships, please contact Lena Moran at LMoran@traxintl.com


---
Last updated: 16 November 2017