DIRECTED ENERGY PROFESSIONAL SOCIETY


Directed Energy Systems Symposium
2-5 April 2012
Gaithersburg, Maryland
The Directed Energy (DE) Systems Symposium focuses on systems aspects of DE in a limited-attendance environment. The Seventh Annual DE Systems Symposium consisted of co-located technical sessions organized by five separate conferences, with joint technical and plenary sessions to encourage discussion outside narrow technical limits. The objective of this yearís symposium was to provide a forum for the interchange of ideas and to focus on near term demonstrations of DE technology. Previous Symposia have been held in Monterey, CA.
Portions of the Symposium were conducted at the Secret level, and attendance at all sessions was limited to U.S. citizens, with security clearances, who are employees of the U.S. Government or its contractors.
Symposium Highlights
Counter Directed Energy Weapons Conference
Directed Energy Modeling and Simulation Conference
Employment of Directed Energy Weapons Conference
High Energy Laser Lethality Conference
RF Directed Energy Weapons Workshop
Invited speakers
Technical presentations
Directed Energy Acquisition Challenges/Solutions Roundtable
Technical Exhibits from Industry, Government, and Academia
Tour of NIST facility
Evening Reception at the historic Gaithersburg Museum and Train Station
Agenda

The technical program is available here in PDF format (401Kb) for download. Changes to the program did occur.
Directed Energy Acquisition Challenges/Solutions Roundtable
This roundtable was a unique opportunity to discuss the challenges the DE community faces in getting DE technology integrated into the weapons systems available to our warfighters. It was open forum, with no formal presentations made, allowing for maximum discussion time. It was opportunity for participants as well as some subject matter experts to discuss a wide range of topics. Topics included: Requirements, Funding, Political Support, Legal Issues, Training and any other topic of interest to the participants. The entire session was dedicated to discussion. It was a closed, but unclassified environment, in other words a "non-attribution" environment. All were invited to attend and participate.
Available for the first time, two of our unclassified, public release short courses, The Road to Fielding DE Systems by Bill Decker and Laser Propagation by Boris P. Venet & Robert Praus, were offered by webcast. Webcasting was be synchronous, that is, available only in real time. A means for asking questions of the instructor was available. The courses provided 0.35 CEU each.
Two tours of the NIST facility were scheduled for Thursday lunch time, 1200 and 1245. The tours were 45 min in length and limited to 25 people per tour.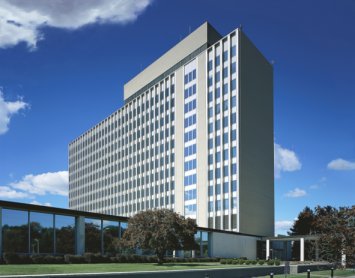 Administrative Building, NIST Gathersburg
Copyright © Robert Rathe
Sessions of the Symposium were held at the National Institute of Standards and Technology (NIST) and at the Hilton Gaithersburg.
Registration
Registration is no longer possible for this event.
Persons requesting cancellation through 5 March will receive a full refund. Cancellations after 5 March are subject to a $100 cancellation fee. No refunds will be given after 27 March. are provided below.
Proceedings
The conferences of the Seventh Annual DE Systems Symposium will publish all presentations (and papers) that have been properly released by a sponsoring government agency and have proper classification markings. See our Online Store for proceedings from previous Systems Symposia.
---