DIRECTED ENERGY PROFESSIONAL SOCIETY


Journal of Directed Energy
Journal of Directed Energy
Dr. Samuel M. Blankenship, Editor
sam@deps.org
Submissions Online Journal Subscriptions, Print Copies Classified Papers
The Journal of Directed Energy is a peer-reviewed publication of the Directed Energy Professional Society (DEPS). It addresses the many aspects of fully engineered directed energy (DE) systems and advances DEPS vision of becoming the premier institution for the exchange of DE information. The Journal is made possible by grants from the High Energy Laser Joint Technology Office and by funding from DEPS.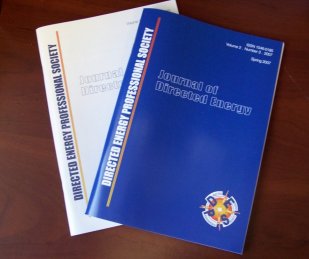 The Journal of Directed Energy provides a central source for the dissemination and exchange of timely information on the various aspects of DE. It provides a forum for the collegial interaction necessary for the testing of ideas and for identifying new opportunities and directions for the advancement of the field. Although other forums exist for publishing archival papers in the various fields associated with DE, The Journal is distinguished by its focus on the emerging DE engineering and system issues, and by its willingness to publish classified papers.
The Journal of Directed Energy offers:
Original research
Classified and unclassified editions
Individual and institutional subscriptions
Rigorous peer-review process
International visibility
High standards of quality and service
The Journal of Directed Energy solicits and publishes both classified and unclassified papers in all aspects of DE, with particular emphasis on the engineering issues of the discipline, including:

DE System Design
High Energy Lasers
High Power Microwave Systems
Laser Optics
Acquisition, Tracking, and Pointing
Propagation Effects
Pulsed Electromagnetics
Antenna Systems
Vulnerability Assessment
DE Modeling and Simulation
Human Factors
Self Protection Issues
Test and Evaluation
HPM Bio-Effects

The Journal of Directed Energy published only unclassified, public release papers. The Journal of Directed Energy (Limited Edition) publishes only classified papers. Instructions for manuscript submission are available here.

Subscriptions and Print Copies

Subscriptions to the print versions of the unclassified Journal of Directed Energy as well as current and past print issues are available for purchase from the DEPS online store. Each subscription includes two issues.

Obtaining Papers from the Classified Journal

DEPS also publishes the classified Journal of Directed Energy (Limited Edition). Individual papers from the classified Journal are available, free of charge, to persons with the proper security credentials through the Directed Energy Engineering and Analysis Center (DE2AC).
DEPS offers online access to the Journal. To date, this includes only the issues that are linked below, but DEPs is making the entire publication available online. For those issues published within the last ten years, the titles, authors and abstracts are available to the general public online, but electronic copies of the papers themselves are available only to DEPS members. For issues older than ten years, the titles, authors, abstracts and papers are available to everyone.
In addition, papers are available online that have been accepted but are pending publication in the Journal. Titles and abstracts from these Current Papers are available to the public while the entire papers are available to DEPS members.
Journal of Directed Energy, Volume 4
Contents and Indexes

Volume 4, Number 4, Summer 2012
Volume 4, Number 3, Spring 2011
Volume 4, Number 2, Winter 2010
Volume 4, Number 1, Fall 2010, Special Edition: Thin Disk Lasers, edited by Pete Latham
Journal of Directed Energy, Volume 3
Contents and Indexes

Volume 3, Number 4, Summer 2010
Volume 3, Number 3, Winter 2009
Volume 3, Number 2, Spring 2009
Volume 3, Number 1, Fall 2008
Journal of Directed Energy, Volume 2
Contents and Indexes