DIRECTED ENERGY PROFESSIONAL SOCIETY


UK/US Directed Energy Workshop
15-19 June 2015
Swindon, United Kingdom
Location & Accommodations Fees & Registration Short Courses

Security Information Submissions Release Forms

Exhibits Organizing Committee Local Weather
A Joint UK-US Workshop
Hosted this Year by the MOD in the United Kingdom
Progress in the development and application of high energy laser and high power RF directed energy weapon (DEW) technologies for military missions was explored in this workshop. It extended a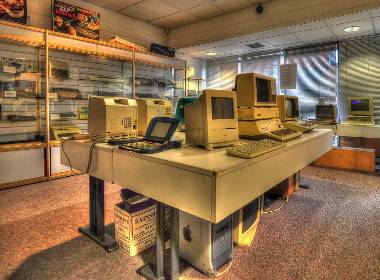 Opening in 2003, Swindon's Museum of Computing was the first UK museum exclusively dedicated to the history of computing.
Courtesy of Museum of Computing, Swindon

series of bilateral meetings, the most recent of which was 2012 UK/US DEW Workshop.

This Workshop is specifically designed for Secret U.S. and U.K. discussions and presentations, under bilateral exchange agreements between the U.S. and U.K. governments. DEPS role is to support these exchanges, in registration, catering, badging and other logistical activities.

Participation in the UK/US DE Workshop was limited to American and British citizens with the proper visit request on file with the appropriate government offices.

Highlights
RF DEW technical sessions
Laser technical sessions
Invited plenary speakers

Introduction to High Energy Lasers
Introduction to RF Technologies
Laser Deconfliction
Tri-Service Lethality

Social events
Overview Agenda
An overview of the Workshop agenda is offered below. The final program varied somewhat from this overview. The program on Monday and Friday was held at the Swindon hotel. The program on Tuesday through Thursday was held at another location. Coach transportation was provided.
Monday, 15 June
1200
On-site badging and checkin opens at Jurys Inn
1300
Short Courses
Course 1: Introduction to High Energy Lasers Course 2: Introduction to RF Technologies
Tuesday, 16 June
0815
Coach Check-in at Jurys Inn
0900
On-Site Registration Opens
0930
Plenary Session
1200
Lunch
Hosted by MBDA
1300
Breakout Sessions
Laser Concepts and Integration
RF Systems Engineering and Integration
1730
Social Event: Trip to Oxford
Additional cost of $30 applies
Wednesday, 17 June
0815
Coach Check-in at Jurys Inn
0900
On-Site Registration Opens
0930
Breakout Sessions
Laser Technology
RF Technology
1250
Lunch
Hosted by MBDA

Wednesday, 17 June (continued)
1335
Breakout Sessions

Laser Effects
Laser Countermeasures
RF Military Utility and Concepts
1800
Reception at Jurys Inn
Thursday, 18 June
0815
Coach Check-in at Jurys Inn
0900
On-Site Registration Opens
0930
Breakout Sessions
Overarching Issues
Laser Modeling and Simulation
RF Protection
1240
Lunch
Luncheon Speaker
1340
Breakout Sessions

Overarching Issues
Laser Beam Control
RF Technology
Friday, 19 June
0800
Short Courses
Course 3: Laser Deconfliction
Course 4: Tri-Service Lethality (full day course)
1200
Lunch (short course attendees only)
1300
Afternoon Short Courses

Course 4: Tri-Service Lethality (continues to 1700)

The workshop hotel was the Jurys Inn Swindon Hotel located on Fleming Way, Swindon, SN1 2NG United Kingdom, telephone: +44 1793 445 600.
The hotel reserves the right to enforce its policies, procedures, and cancellation fees. DEPS is not responsible for any hotel cancellation charges, penalties, or billing discrepancies.
Companions & Social Events
Companions are always a welcome addition to any DEPS meeting. To encourage them, we offer a companion reception ticket which includes attendance at the Wednesday evening light reception.
Social Trip to Oxford
DEPS also offered a bus trip to Oxford on Tuesday evening for registrants and companions for an additional cost of $30 per person.
Fees & Options
---Pre Registration---

------ Short Courses ------

Through 18 May
Through 12 June
Half-day
Full-day
DEPS Members
$950
$1100
$240
$450
Non-Members
$1100
$1250
$240
$450
Government
$665
$665
$240
$450
Note: Full-time Royal Defence Academy students enjoy complimentary attendance at the short courses offered at the UK/US DE Workshop.
Registration fees include participation in all Workshop sessions for which the attendee qualifies; snacks, coffee breaks, and lunch from Tuesday through Thursday; the evening reception on Tuesday, and a copy of the Workshop proceedings. Breakfast is not included as part of the registration fee but is available free if staying at the Jurys Inn as a benefit provided by the hotel for hotel guests. Short course registrations included student materials, refreshments, lunch on Friday (if registered for a Friday course), and Continuing Education Unit (CEU) credits for successful students. Persons wishing to register for the short courses only should print and complete registration form (PDF format) and follow the instructions provided.
Registration
Registration is no longer available for this event.
Persons requesting cancellation through 18 May will receive a full refund. Cancellations after 18 May are subject to a $100 cancellation fee. There will be no refunds after 9 June.
---
The UK/US Directed Energy Workshop is SECRET and limited to U.S. and U.K. citizens with the necessary visit request on file with government offices. Please read below for details on requirements for participation in the Workshop. Covered are: Security Clearances, Classified Proceedings, Onsite Security, and for US Attendees, the Request for International Visit and Authority for Foreign Travel.
1. Security Clearances
British Citizens: All British Citizens attending the Workshop need to have a valid and current Security Clearance. This must be sent to the Defence Academy (c/o Gareth Rees Grees.hq@DA.mod.uk) at least two weeks before the conference.
U.S. Citizens: US Citizens wishing to participate in the UKUS DE Workshop must submit a classified visit request to DEPS via the Joint Personnel Adjudication System (JPAS) according to AFI 31-101 and the NISPOM with the following information:
Purpose of Visit: UKUS DE Workshop
Point of contact: Tiffany Bjelke
POC Phone: (505) 998-4910
Visited SMO: 1LNJ44
First day of visit: 15 June 2015
Last day of visit: 18 June 2015
For questions regarding clearances or verification of receipt please call Tiffany Bjelke at (505) 998-4910.

US Citizens planning to attend who do not having access to JPAS may submit classified visit requests via fax according to the instructions below. Note that this method should only be used by those who do not have access to JPAS. Any faxed visit requests for personnel in JPAS will be rejected and required to be re-submitted through JPAS.

The classified visit request must be typed and on your company letter head. You should us the format that is best suited for your operation; however it must contain all applicable information below. The visit request must be signed by your security office/manager as to verify your employment and clearance status. Without this signature, the visit request is invalid and will not be processed.
Full name of attendee
Job title/position
Your company name, address, and phone number
Social security number
Date of birth, place of birth, and citizenship
Clearance level and date granted
POC: Tiffany Bjelke
Purpose of visit: To attend the UKUS DE Workshop
Date of visit:15-18 June 2015
Name and signature of your security manager
Fax requests to the DEPS office at (505) 998-4917. If there are any questions you can reach DEPS Security at (505)998-4910.

2. Request for International Visit (US Only)

All US visitors attending this international Workshop must also submit a Request for Visit (RFV) to USDAO according to the instructions below. These forms must be submitted 35 days prior to travel. Late RFV forms will not be accepted. Please be sure and use the form that is applicable to your status.

Military and Government Personnel: Complete this RFV for Military/Government Personnel. These MS Word form can be completed electronically, saved to your local machine, and then printed, signed, and submitted as detailed below. Additionally, please ensure you have Country Clearance through your security staff via APACS. Military/government RFVs should be submitted to DAOVisits@state.gov along with a command letter on unit letterhead verifying the visitor's security clearance.
Please be sure to password protect or otherwise encrypt the RFV form prior to sending in order to protect the personal information contained within it. Send any password used in a separate email.

Contractor and Academics: Please submit this Contractor/Academic RFV to US Defense Industrial Security Clearance Office (DISCO) by FAX at 571-305-6010. Questions should be directed to: DSS Visit Request Hotline at 855-834-0375 or email RFV@dss.mil. Note that this form has been partially completed (fields 3, 4, 5, 6, 7, 8, and 13); you should complete the remaining fields (fields 2, 9, 10 and 12) which require personnel information prior to submitting.

NOTE: All US RFVs must be submitted at least 35 days prior to your travel.

3. Authority for Foreign Travel

Each organization has different requirements before it allows its employees to travel overseas on official business. Please contact your Foreign Travel/Foreign Disclosure Officer or Security Officer for further guidance.

4. Classified Proceedings

Only one level of proceedings will be published for the Workshop, UK/US Secret, which will be available to all appropriate U.K. and U.S. cleared attendees.

U.S. Citizens: Proceedings will be available and distributed through DE2AC, tisha.mangold.ctr@jto.hpc.mil

British Citizens: Please provide a mailing address to a facility certified to handle and store classified material and the CD and any notes will be sent to you after the event. A form will be provided here soon that you can use to submit this information.

Attendees who are presenting at the Workshop should note that it is the author's responsibility to obtain approval for the release of their work. For US Citizens attending the Workshop, this process can take up to 30 days to allow for review, amendments and re-review. Please be sure and leave sufficient time. See Submission Instructions below for detail on the release requirements.

5. Onsite Security Requirements

Attendees will be issued Cranfield ID badges on site and must have valid govít ID available at all times
Wireless electronic devices are prohibited in classified sessions
Classified materials must be processed through security
Classified and sensitive but unclassified conversations and discussions are restricted to designated meeting rooms only
Audio and video recording is prohibited
Security concerns should be addressed to a Security Team member
Failure to adhere to security standards could result in denied/revoked Symposium registration
---
The Workshop Committee is soliciting contributions for the technical programs. Selection of contributions for the program will be based on the review of abstracts.
Abstracts are solicited in all areas of RF DEW, with special consideration given to these topics:

RF DEW Weapon Concepts and Military Utility
RF DEW System Engineering and Integration
RF DEW Technologies
RF DEW Effects and Testing
Protection Against RF DEW
Overarching Issues (Legal/Policy/Doctrine)

Abstracts are solicited in all areas of Laser DEW, with special consideration given to these topics:

High Energy Lasers
Beam Control
Laser Weapon Concepts and Military Utility
HEL Systems Engineering and Integration
HEL Technologies
HEL Effects and Testing
Modeling and Simulation
Protection Against HEL Weapons
Overarching Issues (Legal/Policy/Doctrine)
All persons wishing to present at the US/UK DE Workshop must submit an unclassified abstract on or before 30 March 2015. Note: Abstracts extended through 5 May!. Abstracts are to be submitted online by completing this form. Please contact webmaster@deps.org with any technical issues regarding abstract submission. Subject matter questions regarding abstracts should be directed to appropriate Technical Chair.
Important Dates for Presenters

30 March 2015

Abstracts due
Extended through 5 May!



6 April 2015

Authors notified of acceptance



1 May 2015

U.S. security clearances due



27 May 2015

Presentations and papers due with release forms



29 May 2015

U.K. security clearances due



15-19 June 2015

UK US DE Workshop


Authors needing to submit abstract information that is not public release should submit a placeholder abstract using the online system, then contact the appropriate Technical Chair to determine how to submit the additional information.

The Program Committee will inform authors by 6 April 2015 if their contributions are selected for inclusion in the Workshop Technical Program.

Please note: Authors are warned that obtaining permission to make presentations to this international audience, especially at classified levels, will require an extended review process. Be sure to allow sufficient time after the creation of your presentation to complete these reviews. It is suggested that authors seek initial permission to release their work to the UK/US Community prior to submitting their abstract.

Authors are encouraged to submit papers as well as presentations. Papers accompanying presentations selected for the technical program will be published in the Workshop proceedings and should follow the DEPS Meeting Paper Format. Upon author approval, papers may be forwarded for consideration by editors of the Journal of Directed Energy, a peer-reviewed publication.

All presentations should be prepared using MS PowerPoint or Adobe PDF; papers should be in MS Word or Adobe PDF.

Release of Papers and Presentations
It is the author's responsibility to obtain approval from their sponsoring agency for the release of their work to

this international US/UK audience. All authors, from both the US and the UK, are required to complete the applicable Release Forms, available to the right, for each presentation or paper submitted. These release forms are due at the same time as the corresponding presentation/paper (27 May).

Submissions by US Authors must then obtain approval from the Foreign Disclosure Officer. This process, which can take up to 30 days to complete, will be handled for you by submitting your presentation/paper to the persons listed below by the deadline of 27 May 2015. Authors of secret presentations are encourged to submit earlier to allow ample time for the review process.

Submitting Papers and Presentations
Soft copies of papers and presentations should be sent as follows based on citizenship. Note that presentations and papers, along with the required release form, must be received no later than 27 May.

Security Markings
All papers and presentations must be assigned the appropriate authorized Release Statement (UK) or Distribution Statement (US) for publishing. Classified and limited release papers/presentations must be approved for release to both the UK and US Government Agencies and their contractors. All papers and presentations must be properly marked according to their classification and distribution. Included in the distributions statement, the agreement being used should be called out. For example, if using the HEL agreement, the distribution statement should include the "UK distribution authorized under MIE MOU: UK-RN-N-09-5969."