DIRECTED ENERGY PROFESSIONAL SOCIETY


Directed Energy to DC Exhibition

27-30 March 2017
Washington, DC
Exhibit Options & Fees Exhibit Application Timeline Accommodations Security Contacts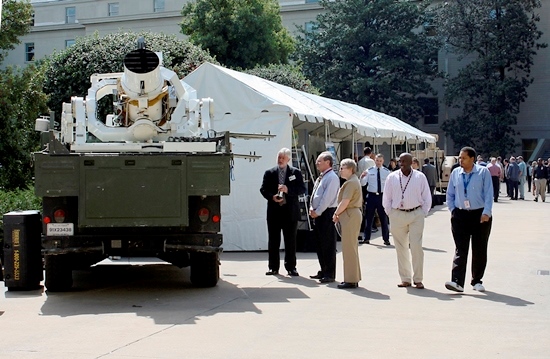 The Directed Energy to DC Exhibition (DE2DC) is part of the Directed Energy Outreach Campaign, which has been successfully educating decision makers and warfighters on RF and laser directed energy weapons technologies and capabilities since January 2009. The DE2DC Exhibition provides an opportunity for Government, industry and academia from across the United States to educate and exhibit mature directed energy hardware at the Pentagon and on Capitol Hill. DEPS is pleased to offer this opportunity for the sixth consecutive year. Details about the previous exhibitions are available here.
The Congressional Directed Energy Caucus welcomes the opportunity represented by this Exhibition. The Caucus Co-Chairs, Representatives Jim Langevin (D-RI) and Doug Lamborn (R-CO), have sent a letter expressing their gratitude for this annual educational event.
The Assistant Secretary of Defense has also expressed support for the 2017 Exhibition as an educational opportunity for the DOD to learn about Directed Energy.
The 2017 DE2DC Exhibition will be held in Washington DC on 27-30 March 2017. Exhibit material will be set up in the Pentagon Courtyard on Monday, 27 March 2017. The event begins with the Pentagon Courtyard exhibition on Tuesday, and then closes with an exhibit and reception in the Rayburn Foyer on Capital Hill on Thursday.
This year the Directed Energy Summit will be holding its annual event in conjunction with DE2DC. The Summit will be held on Wednesday and Thursday.
The Pentagon Courtyard exhibition offers large 10x10 feet tented spaces, suitable for exhibits, posters, and large hardware. An item that can fit down the tunnel into the courtyard can be exhibited. In the first year, Active Denial and MATTS were just two of the mobile displays staged on the courtyard. If an item is too large, accommodations at parking level can be arranged. Large hardware and models of existing hardware are encouraged and welcome. Exhibit space at the Rayburn House Foyer is limited, offering a space six feet wide by eight feet deep with table, suitable for exhibits and posters. Exhibit spaces will be distributed on a first come, first serve basis. A detailed draft exhibitor timeline is given below.
Draft Exhibitors Timeline
Thursday, 23 March:
NLT date for shipped exhibit material to reach hotel
Friday, 24 March:
Exhibit material loaded on DEPS van
Sunday, 26 March:
Pre-arranged only walk-in exhibit material to hotel
Monday, 27 March:
Pentagon courtyard set up; Exhibitors arrive 1000
Tuesday, 28 March:
Pentagon Exhibit: 0900-1400, tear down at 1400
Wednesday, 30 March:
DE Summit Poster Reception: poster set-up at 1500, reception at 1730
Thursday, 30 March:
Rayburn Foyer exhibit and reception: set up 1000-1300, open 1300 to 1900, tear down at 1900
Exhibit Options & Fees
Pentagon Courtyard Exhibit, Tuesday, 28 March, 0900-1400
DEPS Sponsors: $2500; Others: $2800
Includes 10x10 tented space, electricity, table, two chairs, and two attendees
Includes space on DEPS van for transporting exhibit materials
Directed Energy Summit Reception, Reagan Center Ballroom, Wednesday, 29 March, 1730
Included for all exhibitors but must register for Directed Energy Summit
Either two 2 ft X 2 ft or one 4 ft X ft poster
Posters to be transported to Reagan Center by exhibitors
Rayburn House Office Building Foyer Exhibition and Reception, Thursday, 30 March, 1300-1900
DEPS Sponsors: $2200; Others: $2500
Includes 6x8 space, table, two chairs, and two attendees
Standard wall socket electricity available, bring your own power strip and extension cord
Includes space on DEPS van for transporting exhibit materials
Exhibit Application
Due to security requirements for this event, the deadline for submitting exhibit applications has passed. If you have any questions please contact Tiffany Bjelke at (505) 998-4910 or email tiffany@deps.org.
Please note that due to security requirements, the last day to submit an exhibit application will be Tuesday, 31 January and all staff registrations must be completed by midnight of the same day. All staff must submit necessary visit requests; please see Security below.
Exhibitors requesting cancellation through 27 February will receive a full refund. Cancellations after 27 February are subject to a $250 cancellation fee. No refunds will be given after 13 March.
Government and Military Personnel
Government and military organizations are encouraged to join us at the Pentagon for a reduced rate for exhibiting. Please contact Cynthia Kaiser at cynthia@stsincalb.com to discuss rate.
Accommodations
The recommended hotel for this event is the Residence Inn Arlington Pentagon City, 550 Army Navy Drive, Arlington, VA 22202. We have reserved a block of rooms at government per diem rate at the Residence Inn for Exhibitors at this event. To reserve a room, call reservations at 1-800-331-3131 and ask for the "Directed Energy Professional Society DE2DC Event Room Block March 2017 at the Residence Inn Arlington/ Pentagon City." or click here for online reservations. Make your reservations early; the room block will expire on 10 March 2017.
Please note that this hotel charges a parking fee of $29 per day.
The hotel reserves the right to enforce its policies, procedures, and cancellation fees. DEPS is not responsible for any hotel cancellation charges, penalties, or billing discrepancies.
Security
All persons participating in the DE2DC event, including delivery drivers and set up personnel, must be U.S. citizens and must request access by submitting the following security information to DEPS no later than end of day on 28 February 2017.
Persons having access to the Joint Personnel Adjudication System (JPAS) should send visit notification via JPAS with:
Purpose of Visit: DE2DC
Point of contact: Tiffany Bjelke
POC Phone: (505) 998-4910
Visited SMO: 1LNJ44
Dates of visit: 27-30 March 2017
For those persons not having access to JPAS, a "Visitor Certification" request should be submitted providing the information listed below. The request must be on agency letterhead (or on the agency's Visit Request Form which includes all of the required information). For each individual, the request must include:
Full name
Social Security Number *
Full location and date of birth
If no clearance exists for the individual then signed verification of U.S.Citizenship is required
Dates of Visit
Purpose of Visit: DE2DC
POC in individual's agency
Background investigation date (clearance date) if no investigation please write "No background investigation, Please run an NCIC check"
Note: if we have to run the background check it will take longer than 72 hours to process. Please plan accordingly.
This information should be faxed to Tiffany Bjelke, DEPS FSO 505-998-4917. Alternatively, if you have encryption capability, you may email the information to tiffany@deps.org.
* Social Security Numbers should not be sent via email unless the email is encrypted. If you do not have encryption capability, you must fax your information to the number provided.
Please note that all visit requests must be submitted no later than 1600 EST on Tuesday, 28 February and no additional names can or will be added after that time. This is an external requirement placed upon DEPS and therefore cannot be adjusted. For this reason, we suggest that you submit visit requests or security information for any persons who are potential attendees, such as corporate executives, alternate staff or additional drivers or setup personnel. Only those persons who have submitted the information by this time and date will have the opportunity to be cleared for special access to the premises.
Please contact Tiffany at 505-998-4910 if you have any questions.
---