Directed Energy Outreach
The Directed Energy Outreach Campaign has been successfully educating decision makers and warfighters on RF and laser directed energy weapons technologies and capabilities since January 2009. DE Outreach provides an opportunity for the DE community from government, academia and industry across the United States to educate senior decision makers at the Pentagon and on Capitol Hill, including the opportunity to exhibit mature DE technologies. This (11 Mb pdf) DE Outreach Annual Publication summarzes activities conducted by the campaign participants in 2018. (A briefing summarizing early DE Outreach activities is available here.)
Directed Energy to DC Exhibitions
The most extensive activity of DE Outreach has been the Directed Energy to District of Columbia Educational Exhibitions, or DE2DC. The schedule for these events has included an exhibition and reception on Capitol Hill and a more extensive exhibition of DE hardware in the courtyard of the Pentagon. The activities on Capitol Hill and at the Pentagon are usually held on two independent days in the same spring week. Recent events have been coordinated with the Directed Energy Summit, which was founded by the Center for Strategic and Budgetary Analysis and Booz Allen Hamilton.
The DE2DC events have been held annually since 2012, and another is being planned for 2018. A summary of results for the 2017 event is available. The next event is scheduled for the week of 19 March 2018.
DE Outreach is managed by Cynthia Kaiser, consultant to the High Energy Laser Joint Technology Office and DEPS member, whose contact information is given at the bottom of this column. If you would like to participate in the campaign and DE2DC, please get in touch with her. The campaign kicks off each year with a planning meeting held at the Directed Energy Systems Symposium in the fall.
Directed Energy Caucus
The Directed Energy Caucus was formed in Congress in 2011 in recognition of the importance of this potentially game changing technology. The Caucus watches over DE issues on Capitol Hill and has served as the Capitol host for DE2DC. The list to the right shows the current members.
Contact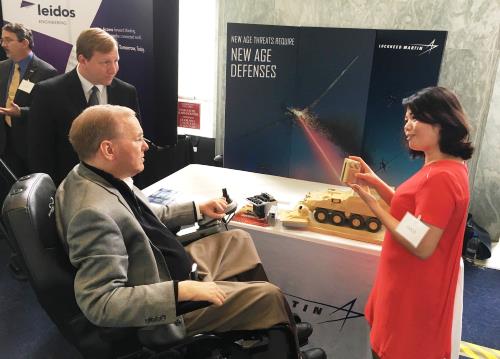 DE Caucus Co-Chair Representative Langevin at DE2DC.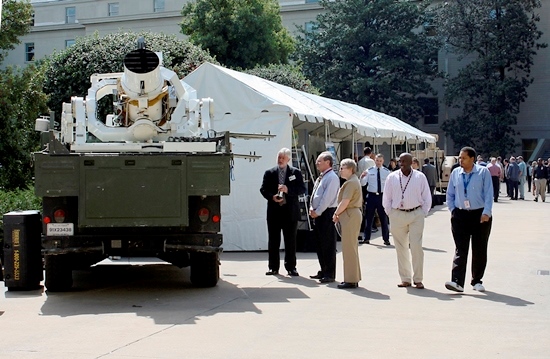 DE equipment attracts attention at the Pentagon.


Directed Energy Caucus Members
Doug Lamborn (co-chair), R-Colo.
James Langevin (co-chair), D-R.I.
Jim Bridenstine, R-Okla.
Mo Brooks, R-Ala.
Mike Conaway, R-Texas
Susan Davis, D-Calif.
Scott DesJarlais, R-Tenn.
Trent Franks, R-Ariz.
John Garamendi, D-Calif.
Michelle Lujan Grisham, D-N.M.
Alcee Hastings, D-Fla.
Steve Knight, R-Calif.
Ted Lieu, D-Calif.
Scott Perry, R-Pa.
Martha Roby, R-Ala.
Mike Rogers, R-Ala.
Tim Ryan, D-Ohio
David Schweikert, R-Ariz.
Austin Scott, R-Ga.
Carol Shea-Porter, D-N.H.
Jackie Walorski, R-Ind.
Joe Wilson, R-S.C.
Robert Wittman, R-Va.