DIRECTED ENERGY PROFESSIONAL SOCIETY


Advanced High-Power Lasers
24-27 June 2013
Santa Fe, New Mexico
The Advanced High-Power Lasers meeting consisted of co-located technical sessions organized by three separate conferences, with joint technical and plenary sessions to encourage discussion outside narrow technical limits.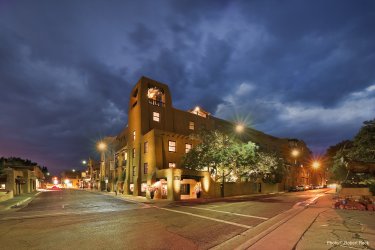 The La Fonda is the conference hotel. (Photo: Robert Reck)
Registrants meeting the attendance criteria were able to attend any session of any conference for just one registration fee. Some portions of the conference sessions were limited participation. There were public release joint plenary session available to all attendees.
Program Highlights
Ultrashort Pulse Laser Workshop
Solid State and Diode Laser Technical Review
Free Electron Lasers Review
Invited speakers
Public release and limited technical presentations
Exhibitor Reception
Industrial and Government Exhibits
Public release and limited distribution proceedings
Webcasting of select unclassified sessions
Tour of Low Energy Demonstration Accelerator at Los Alamos National Lab
The detailed program is available here in PDF format for download. Changes to the program did occur.
Proceedings
Open unclassified proceedings of the conference will be published on CD and mailed to all attendees. See our Online Store for proceedings from previous AHPL Meetings. Limited Distribution are optional for attendees who qualify.
Location and Accommodations
Most sessions of the Advanced High Power Lasers meeting were held at the La Fonda Hotel, located at 100 E. San Francisco Street, Santa Fe, New Mexico.
Tour
A tour of Los Alamos National Lab Free Electron Laser(FEL) capabilities was offered on Thursday afternoon. The tour consisted of a visit to the Los Alamos National Lab's Low Energy Demonstration Accelerator (LEDA) FEL facility which houses the high-average-current continuous-wave (CW) normal-conducting radio-frequency (NCRF) gun.