DIRECTED ENERGY PROFESSIONAL SOCIETY


Directed Energy Education Workshop 2010
19 November 2010
Bethesda, Maryland
Education is vital to the Directed Energy community. Fostering the professional growth of current workers in the field and increasing the number of young, new members in the community are important DEPS educational goals. This was the tenth Workshop in a series of DE Education Workshops to advance these goals. The Workshops considers current and future Directed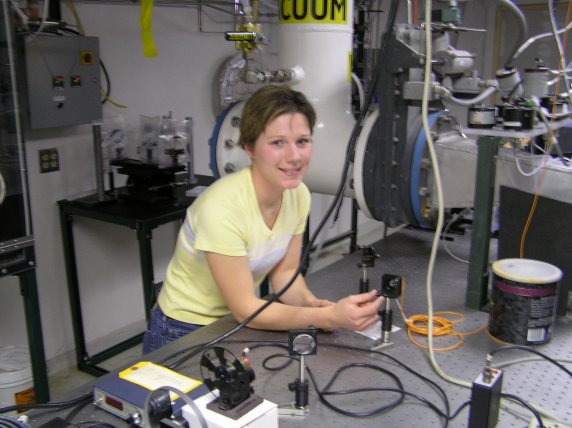 University of New Mexico Ph.D. student Carrie Noren
at work in Air Force Research Laboratory laser lab

Energy education programs around the country. Support for the Workshop has been provided by the High Energy Laser Joint Technology Office and by DEPS.

The scope of the Workshop includes:
Programs from K-12 through graduate/post-graduate studies and technical vocational training
Professional continuing education
Student motivators (scholarships, fellowships, recognitions)
Summer internship programs
Curriculum development
The Workshop was held on Friday 19 November in Bethesda, Maryland. It immediately followed the technical program of the Thirteenth Annual Directed Energy Symposium, also held in Bethesda on 15-19 November 2010.
Program
0800
Opening Remarks
Don Seeley, HEL JTO
0815
DEPS Education Programs
Sam Blankenship, DEPS
0830
Experimental and Numerical Studies of a Pulsed Rubidium Diode Pumped Alkali Metal Vapor Laser (DPAL)
Larry Merkle, ARL
0910
High Power Multimode Fiber MOPA with SBS Beam Cleanup and Phase Conjugation
Steven Rogers, ARL
0930
Break
1000
Development of Control System to Track Moving Target
Mark Galligan, NRL
1020
Experimental and Numerical Studies of Thermal Lensing in Optical Materials
Samantha Franklin, USAF 711 HPW/RHDO
1040
Integration of JTO Sponsored Codes with RHDO Software A HELCOMES / LHAZ Implementation Example
Jeremy Hartsell, TASC AFRL/RHDO
1100
The 2010 AFIT Directed Energy Summer Intern Program
Eric Smith, Center for Directed Energy
1120
Posters
Testing and Documenting HELEEOS 3.0 and LEEDR 3.0
Joshua Woyak, Center for Directed Energy
Field and Laboratory Validation of Surface Layer Optical Turbulence
Adam Downs, Center for Directed Energy
Polarimetric Reflectance Measurements of Diffuse Scatterers
Matthew Niemiec, Center for Directed Energy
Lab Measurements to Support Modeling Terahertz Propagation in Brownout Conditions
Julian Spinoza, Center for Directed Energy
Characterizing In-flight Disturbance Data from Multiple Tactical Platforms and Operating Regimes
David Huber, Center for Directed Energy
Analysis and Mitigation of Flight Induced Vibrations
Joshua Brown, Center for Directed Energy
Proceedings
Proceedings of the Workshop will be included in the unclassified Symposium proceedings. Proceedings from previous Workshops are available through the DEPS online store.
Organizing Committee