DIRECTED ENERGY PROFESSIONAL SOCIETY


Directed Energy Test & Evaluation Conference 2007
7-9 August 2007
Albuquerque, New Mexico
Platinum Conference Sponsor
Co-Hosted by the
International Test & Evaluation Association
Overview
Directed energy is an important and expanding technology area for the military. Taken to include High Energy Laser (HEL) and High Power Microwave (HPM) systems, DE is creating a new class of weapons. Military test and evaluation is currently adapting to these radically new technologies. New measures, methods, and facilities are required for adequate T&E of these systems.
The purpose of this sixth annual conference was to continue exchanging insights, experiences, and ideas regarding DE T&E. As major DE systems progress through the various phases of T&E, critical questions arise regarding our ability to perform appropriate and affordable T&E. Important issues regarding the vulnerability of other, more conventional systems are also of great interest to the DE T&E community. This conference provided a forum to discuss the current and future issues facing DE T&E. The final program is available here in PDF form.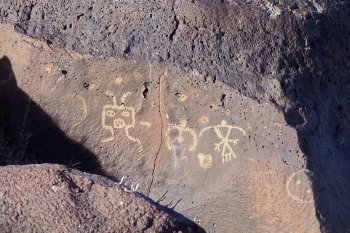 Petroglyph National Monument, Albuquerque
Conference Highlights
| | |
| --- | --- |
| • | Technical Presentations |
| • | Tutorials |
| • | Poster Papers |
| • | Product and Service Exhibits from Industry, Government, and Academia |
| • | Featured Speakers |
| • | Panels, Luncheons, and Receptions |
| • | Classified and Unclassified Sessions |
| • | Golf Tournament |
Featured Speakers

| | |
| --- | --- |
| • | Colonel John A. Daniels, Director, Airborne Laser (ABL) Program Office |
| • | Captain David Kiel, Program Manager, Naval Directed Energy Weapons Program Office (PMS-405) |
| • | Mr. G. Derrick Hinton, Program Manager, Central Test and Evaluation Investment Program |

Plenary Panels

| | |
| --- | --- |
| • | Lessons Learned from Active Denial System (ADS) Testing |
| • | HEL Joint Technology Office (JTO) Directed Energy Applications |

Tutorials
•
Introduction to HEL Systems
•
Introduction to HPM Systems (FOUO)
•
Military Worth Analysis for DE Weapon Systems (FOUO)
•
The Credible Use of Modeling and Simulation in T&E
•
T&E of HEL Systems (FOUO)
•
T&E of HPM Systems (FOUO)
Proceedings
Proceedings from this 2007 DE T&E Conference are available for purchase through the DEPS online store.
Event Committee